Summer/Back To School
2020-21 School Reopening Plan – August 5
St. Michael's is very pleased to share the details of our school reopening plan.
Please note MASKS are required on campus for ALL K-8 students, faculty, staff, and visitors.
Medical Forms
Families: please note the Food Allergy/Anaphylaxis and Medication Consent forms this year that require physician signature for any prescription medications and emergency care plans.
All St M families must sign the "Parent Partnership and Agreement" form below before their child(ren) will be allowed to come to school for in-person learning.
Parent Partnership and Agreement Form - must be signed by all families
First Day of School Sign – Proud to be a
DRAGON

!
Family
CARPOOL

LOOP

and

STUDENT

ENTRANCE

DOOR

ASSIGNMENTS

(Password protected -Families were emailed the code)
Back to School Communications
Hybrid Reopening Cohort Assignments
Morning and afternoon student cohort lists (below) were sent to every family via email, along with the passcode for these protected files.
The hybrid schedule (with carpool times) is as follows :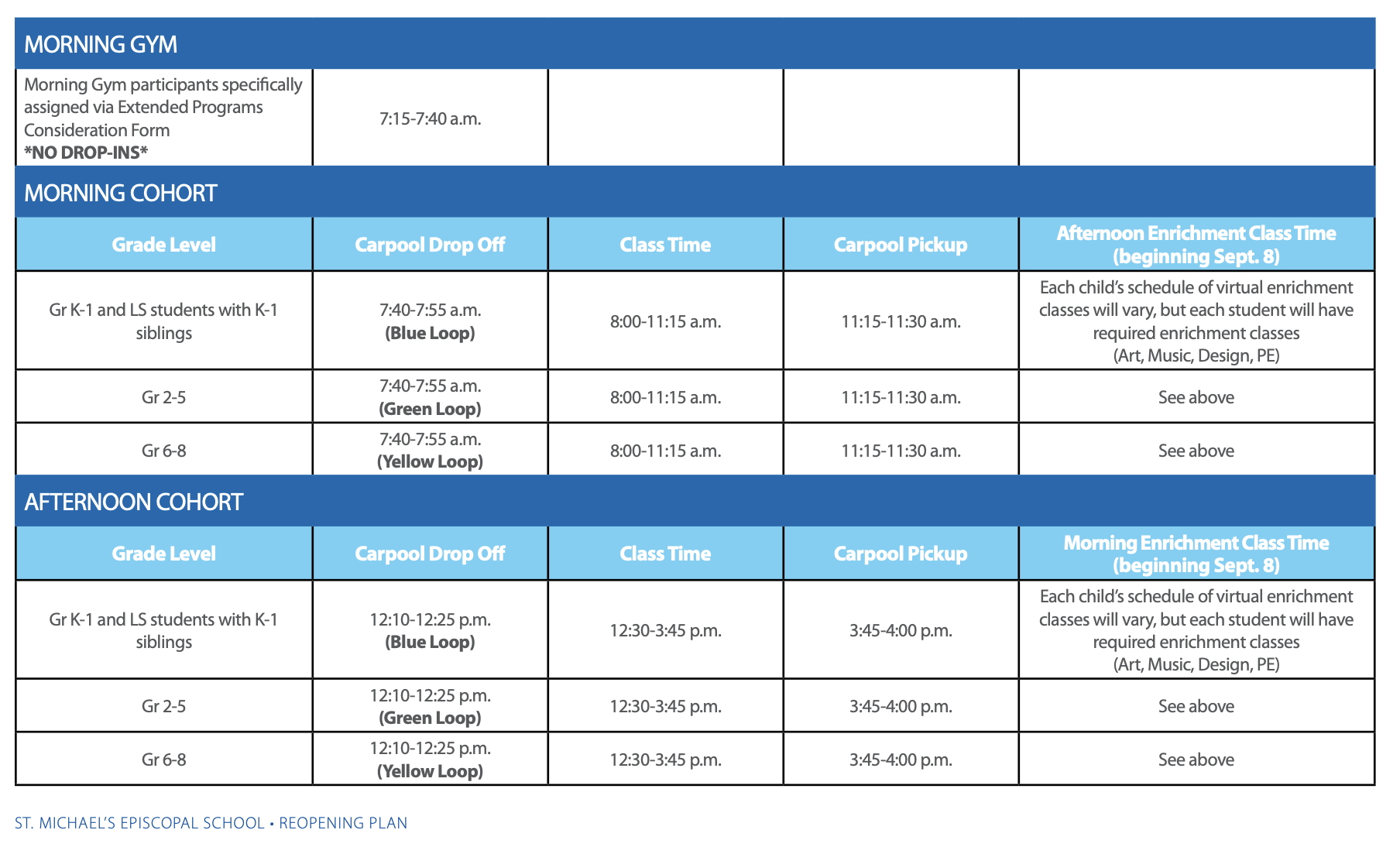 2020-21 Major Dates Calendar
UPDATED

as of July 29
COVID

Reporting Form

Please inform the School IMMEDIATELY via the COVID-19 Reporting Form link below if someone in your family has been exposed or is being tested for COVID-19. Confidentiality of the diagnosed student or teacher will be maintained.
2020-2021 Pandemic Dress Code
While St. Michael's has an important tradition of a Dress Code, these are extraordinary times. As we will be taking greater advantage of St. Michael's 70-acre campus and outdoor spaces for physical-distance learning and movement, and as locker rooms must be closed, we are allowing athletic wear for school dress until further notice. NOTE: St. Michael's will revert back to our traditional Dress Code once pandemic restrictions are lifted.
Pandemic Relaxed Dress Code Guidelines:
No spaghetti straps, tank tops, torn clothing, cut-outs/frays, big logos large than 2 inches, sleepwear, inappropriate language/symbols, necklines lower than the armpit, or short shorts.
Shorts/skorts/skirts must be fingertip length. Leggings must be worn with a tunic top. Pants and shorts should be worn at the waist.
Hats and sunglasses may only be worn outside. Undergarments should be concealed. Extreme hairstyles, facial hair, facial piercings, and hair colors not occurring in nature not permitted.
Closed-toed shoes that will stand up to outdoor learning/activities are also required. Everything should be school appropriate.
School administrators are the final arbiters for what is (not) considered appropriate dress.
2020 School Supply Lists by Grade
2020 Summer Assignments by Grade
LOWER SCHOOL 2020:
Rising Kindergarten – no summer homework (Be sure to read often with your child.)
MIDDLE SCHOOL 2020:
Rising Sixth Grade
Rising Seventh Grade
Rising Eighth Grade
2020-21 School Entrance Form (for summer physicals)
2020-21 St M Athletic Participation Form (for grades 3-8)
If you have a child in grades 3-8 who plans to participate in intramural or middle school sports in the coming school year, an athletic participation physical examination form will be needed.